Defining Beautiful Faces Since 2004
Call for your free consultation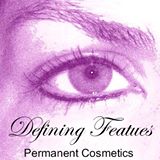 Donna M Walter: 941-698-4002
Located in Seafoam Village
2800 Placida Road
Englewood, Florida 34224
---
What are Permanent Cosmetics?
Permanent make-up is the art of enhancing one's own natural features by implanting pigment just below the surface of the skin. Beautiful women have enlisted this ancient art of permanently applying cosmetics for 4,000 years. The modern term for placing color in the skin is micropigmentation.


Why Permanent Cosmetics?
In our tropical Florida climate, permanent cosmetics are the perfect solution to looking your very best anywhere, anytime. Permanent make-up does not smudge, run or wear off, which gives you the freedom to enjoy the beach, tennis court or golf course. Rain, shine or humidity, your make-up always looks fresh.
Who benefits from Permanent Cosmetics?
Anyone who wants freedom from everyday cosmetic maintenance. Imagine waking up or getting out of the shower or the pool with your make-up on.

Men and women who suffer from hair loss due to aging, medical treatments or alopecia.

Women with irritated eyes due to allergies, traditional eye make-up, dry-eye or contact lenses.

Athletic women who cannot maintain traditional make-up due to perspiration or aquatic sports.

Women too busy with careers and families who do not have the time to apply traditional make-up.


Frequently asked questions.
Is it painful?
Highly effective topical anesthetics are used throughout the procedure.

Is it safe?
Procedures are performed by using a top-of-the-line, permanent make-up pen or the Softap® manual method of tapping pigment into the dermal layer of the skin or a microblade. All of these methods utilize disposable needles and tools so there is no risk of infection from improperly sterilized equipment.

How long does the procedure take?
Most procedures take two hours and include a review of post-procedure care instructions. A short follow-up appointment will be scheduled 4 weeks later on all new procedures.

What is the down time?
Permanent make-up is a form of tattooing therefore it requires a period of healing. Your new brows or eyeliner will look their best after 2 weeks.
How long will my make-up last?
Permanent cosmetic color should be refreshed every three to five years. This time frame varies since fading and color-retention are unique to each individual. Darker pigments generally need to be refreshed less frequently than lighter pigments.